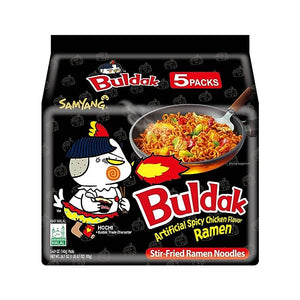 Samyang Buldak Spicy Ramen, Hot Chicken Ramen, Korean Stir-Fried Instant Noodle, Original, 1 Bag with 5 Pack
Spicy Ramen Noodle - The Samyang ramen noodle is spicier than your average instant noodles. You may feel a little sweet then continuous spicy. If you love it, join us and enjoy it.

Carefully Selected Ingredient - Our ramen noodle looks red as fire, with spicy fragrance. All the ingredients are selected carefully. 7 brewing craftw and 8-hours high temperature refining assure our high quality.

Chewy Noodle - Our chicken noodle origins from Korean high-gluten wheat, 3mm toughness width. A chewy noodle for you.

Easy to Prepare - Put Noodles into boiling water and simmer for 5 minutes. Throw away the water and reamin 8 spoons of water. Put liquid sauce and stir-fry for 30 seconds. Add others and stir well.

Multiple Scenarios - Eat it yourself, matches a variety show. Company team building, start a spicy challenge. Togeter with friends, originator of spicy, addictive taste. Share with lover, the top choice.
---
We Also Recommend
---